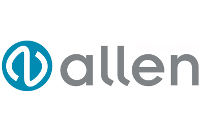 Standard Self-Aligning mainsheet jammer.
The Allen Mainsheet Jammer is designed to prevent the sheet from wrapping round the block resulting in extra control for faster, smoother tacks and gybes.
By moving the block outward from the swivel and angling it away from the cleat the mainsheet system creates turning force on the block and jammer meaning the cleat will always be forced to point away from the boom and towards the helm.
Self aligning to windward,
Smooth rotation,
Innovative light weight construction,
Aluminium arm,
Dual ball race for maximum efficiency,
Optional click stops limit swivel rotation,
Line snags virtually eliminated,
Standard and high cleating angles to suit all,
Angle of rotations - 180, 220, 360.