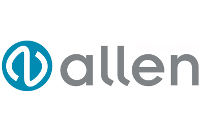 Composite Cam Cleats have had over 50 years of meticulous R&D to perfect their design.
The Alloy jaw profile optimises rope entry and exit for smooth cleating and uncleating.
Alanite is a proprietary material developed by Allen specifically for high wear resistance, low weight and good heat dissipation.
This carbon composite material is ideal for cam cleats.