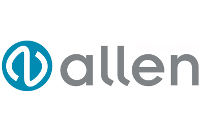 Aluminium Flanged Deck Bush
These Allen flanged aluminum deck bushes feature a wide surface area with two fixing holes, allowing simple installation with only two screws and no messy bonding agent or silicone.
Available in four sizes & six colours, all of which match the pre-existing Allen range of nylon flanged deck bushes, making replacement of an old worn-out plastic deck bush with a new aluminum version easy and seamless.
A through deck bush, also known as a fairlead, is designed to protect a surface from a rubbing wear from a rope or wire, they can also be used as deflecting points. In most applications, a through deck bush is used to guide a rope through a surface, such as the thwart or strut of a boat.