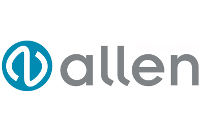 Short heavy duty vernier de-raker Kit.
Allen vernier stay adjusters give much finer control of mast position due to the double offset rows of locating holes.
This product is the compact version of the AL-4772-DR-KIT it easily handles higher loads and with aid of calibrated settings, fast pins and captive de-raker, the result is easy fine tuning on the water, where there is limited requirement for rake change between light and heavy airs.
Stainless steel AISI 316.