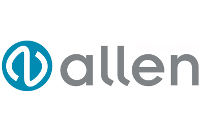 20mm Dynamic Ball Bearing Through deck double allenite block.
Allen through deck blocks are light weight yet strong, durable and offer high wear resistance due to the use of metal replacement technology. The bespoke Allenite material is inert and carbon friendly. The block's smooth, low profile ergonomic design with soft edges minimises any risk of snagging.
Fitting into the deck is made easier thanks to fully rounded ends and flush rivets so you only need to drill two holes and join them together for a neat and quick installation.