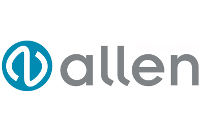 20mm Double cheek block.
The Allen 20mm dynamic ball bearing block is simply the best designed and engineered micro block on the market.
This block features the same dynamic bearing technology you will find in the rest of the 20mm dynamic block range; two rows of 316 stainless steel ball bearings located around a central axle. It also has two fixing holes and an inter-locking middle cheek face to ensure that there is no movement once fixed to the deck and put under load.
Line friendly soft contours and articulation,
Stainless steel cheeks and inner bearing systems handle maximum loads,
Central hole for tie-on becket.