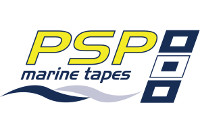 PSP's new ventilation tape is ideal for use in engine rooms or engine compartments for sealing joints in ventilation hose & ducting or as a temporary exhaust bandage up to 120 ºC. Resistant to flame, moisture, weather, UV degradation and many chemicals, this tape can also be used for many other applications such as heat shielding or joining foil faced insulation panels.
The soft aluminium foil is backed with a pressure sensitive acrylic adhesive which can bond to a variety of surfaces including woods, metals & plastics. Its conformability allows it to seal against irregular surfaces.
•
Thermally conductive helping dissipate heat and improve heating and cooling efficiency to protect temperature sensitive materials
•
Heat and light reflectivity protects surfaces and enhances lighting efficiency
•
Soft aluminium foil conforms to irregular surfaces
•
High quality pressure sensitive acrylic adhesive provides long term durability & adhesion
•
Service temperature: -20ºC to +120ºC
Available in retail sleeves 50mm x 7m with standard foil or scrim reinforced for heavier duty applications.