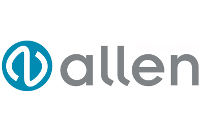 40mm Swivel fiddle block with cleat 2-6mm.
The 40mm dynamic ball bearing block is an essential piece of equipment with a range of applications suitable for mainsheet, jib, spinnaker and vang systems. It has been designed with a clever stainless steel anchor strap and Allen dynamic bearing technology for performance and durability.
Line friendly soft contours and articulation,
Stainless steel cheeks and inner bearing systems handle maximum loads,
Central hole for tie-on becket.