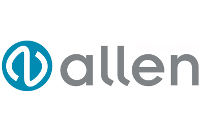 40mm Single Tii-On High Roller Block
A high performance block designed for high stakes sailing.
This is the smallest block available on the market which features a high load two-stage roller bearing system. Roller (needle) bearings take the main loads of the sheave and offer great sheave rolling speeds at high loads. The side load ball bearings cater for any off-centre loading and minimise friction further.
This Tii-On block is designed to be attached via a single line or loop through the central hole in the block. The side cheeks feature a chamfered rope guide as well as two lashing line holes, through which a secondary line should be used to keep the block in the correct orientation.
Easily unassembled and serviced to give longer lasting high performance.
Ideal for fast running and highly loaded lines on keel boats. Applications such as: mainsheets, runners, halyards, spinnaker systems, jib sheets and control lines.