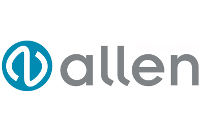 45mm X2 AutoRatchet block.
Allen were pioneers in the development of the first AutoRatchet blocks more than 30 years ago.
The clever internal mechanism is designed to activate when the block is under load - as every sailor knows this can make all the difference on a long spinnaker reach or upwind beat.
The Allen AutoRatchet features the X2 twin locking pawl system which will result in outstanding holding power in strong wind conditions with exceptional light airs performance. Years of constant development with the world's top sailors has made the AutoRatchet one of the most reliable and effective on the market.All our ratchet blocks are engineered with ball bearing technology and advanced engineering polymers for longevity and performance.