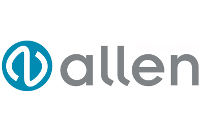 Allen Brothers have expanded their range of high load aluminium thimbles the new range is available in a series of eye catching colours and various sizes which can easily be customised.
The use of high load, low friction thimbles where blocks may have been used in the past, has simplified areas of rig tensioning such as kicker or down-haul systems.
In conjunction with Dyneema® lines, they allow far higher loads and enhanced performance. The new Allen range of HL thimbles feature CNC turned 6082 aluminium, anodised, PTFE coated rings with safe working loads of between 300-1000kg.
Part
Description
Colour
Spliced Line
Ø mm
ID
Ø mm
OD
Ø mm
WL
Kg
RRP
Inc VAT
Unit
AL-0082-08
8mm High Load Thimble - Stainless Steel
-
4
4
8
150

£4.14

EACH
AL-0082-10
10mm High Load Thimble - Stainless Steel
-
5
6
10
250

£4.21

EACH
AL-0082-14
14mm High Load Thimble - Stainless Steel
-
6
8
14
300

£4.26

EACH
AL-0087-15-BK
15mm High Load Thimble - Aluminium
Black
4
6
15
300

£7.79

EACH
AL-0087-15-BU
15mm High Load Thimble - Aluminium
Blue
4
6
15
300

£7.79

EACH
AL-0087-15-GO
15mm High Load Thimble - Aluminium
Gold
4
6
15
300

£7.79

EACH
AL-0087-15-OR
15mm High Load Thimble - Aluminium
Orange
4
6
15
300

£7.79

EACH
AL-0087-15-PP
15mm High Load Thimble - Aluminium
Purple
4
6
15
300

£7.79

EACH
AL-0087-15-SV
15mm High Load Thimble - Aluminium
Silver
4
6
15
300

£7.79

EACH
AL-0087-20-BK
20mm High Load Thimble - Aluminium
Black
5
8
20
400

£8.87

EACH
AL-0087-20-BU
20mm High Load Thimble - Aluminium
Blue
5
8
20
400

£8.87

EACH
AL-0087-20-GO
20mm High Load Thimble - Aluminium
Gold
5
8
20
400

£8.87

EACH
AL-0087-20-OR
20mm High Load Thimble - Aluminium
Orange
5
8
20
400

£8.87

EACH
AL-0087-20-PP
20mm High Load Thimble - Aluminium
Purple
5
8
20
400

£8.87

EACH
AL-0087-20-SV
20mm High Load Thimble - Aluminium
Silver
5
8
20
400

£8.87

EACH
AL-0087
25mm H/L Thimble - Aluminium deep groove
Black
8
8
25
800

£9.71

EACH
AL-0087-25-BK
25mm High Load Thimble - Aluminium
Black
6
10
25
800

£9.55

EACH
AL-0087-25-BU
25mm High Load Thimble - Aluminium
Blue
6
10
25
800

£9.55

EACH
AL-0087-25-GO
25mm High Load Thimble - Aluminium
Gold
6
10
25
800

£9.55

EACH
AL-0087-25-OR
25mm High Load Thimble - Aluminium
Orange
6
10
25
800

£9.55

EACH
AL-0087-25-PP
25mm High Load Thimble - Aluminium
Purple
6
10
25
800

£9.55

EACH
AL-0087-25-SV
25mm High Load Thimble - Aluminium
Silver
6
10
25
800

£9.55

EACH
AL-0087-30-BK
30mm High Load Thimble - Aluminium
Black
8
12
30
1000

£10.76

EACH
AL-0087-30-BU
30mm High Load Thimble - Aluminium
Blue
8
12
30
1000

£10.76

EACH
AL-0087-30-GO
30mm High Load Thimble - Aluminium
Gold
8
12
30
1000

£10.76

EACH
AL-0087-30-OR
30mm High Load Thimble - Aluminium
Orange
8
12
30
1000

£10.76

EACH
AL-0087-30-PP
30mm High Load Thimble - Aluminium
Purple
8
12
30
1000

£10.76

EACH
AL-0087-30-SV
30mm High Load Thimble - Aluminium
Silver
8
12
30
1000

£10.76

EACH
AL-0087-35-GO
35mm High Load Thimble - Aluminium
Gold
10
15
35
1500

£11.09

EACH
AL-0087-35-OR
35mm High Load Thimble - Aluminium
Orange
10
15
35
1500

£11.09

EACH
AL-0087-35-PP
35mm High Load Thimble - Aluminium
Purple
10
15
35
1500

£11.09

EACH
AL-0087-35-SV
35mm High Load Thimble - Aluminium
Silver
10
15
35
1500

£11.09

EACH
AL-0087-35-BK
35mm High Load Thimble - Aluminium
Black
10
15
35
1500

£11.09

EACH
AL-0087-35-BU
35mm High Load Thimble - Aluminium
Blue
10
15
35
1500

£11.09

EACH
AL-0087-50-BK
50mm High Load Thimble - Aluminium
Black
14
20
50
2000

£18.60

EACH
AL-0087-50-BU
50mm High Load Thimble - Aluminium
Blue
14
20
50
2000

£18.60

EACH
AL-0087-50-GO
50mm High Load Thimble - Aluminium
Gold
14
20
50
2000

£18.60

EACH
AL-0087-50-OR
50mm High Load Thimble - Aluminium
Orange
14
20
50
2000

£18.60

EACH
AL-0087-50-PP
50mm High Load Thimble - Aluminium
Purple
14
20
50
2000

£18.60

EACH
AL-0087-50-SV
50mm High Load Thimble - Aluminium
Silver
14
20
50
2000

£18.60

EACH
AL-0087-75-BK
75mm High Load Thimble Aluminium
Black
17
28
75
2500

£42.80

EACH
AL-0087-90-BK
90mm High Load Thimble Aluminium
Black
20
28
90
2500

£49.46

EACH