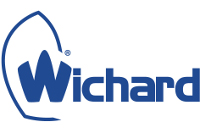 Forged Stainless Steel Captive Thimble Shackles
These shackles are stylish and very reliable. Their special shape enables an end to be directly spliced without adding an additional thimble.
The stainless steel shackles with a thimble moulded over the top are designed for boats under 60 foot long.
The pin is also connected to the body at all times, even when fully opened, consequently, there is no more risk of seeing it fall in the water, which would make the shackle unusable. These shackles can therefore be fitted completely safety using just one hand.
Working Load (WL)
= Static load at which the product will still function without excessive friction or wear or permanent deformation of components.
Breaking Load (BL)
= Static load at which a major failure of one or more structural components or complete destruction of the product.
Working Load Limit (WLL)
= 5:1 safety factor of the breaking load, used for industrial applications.
Wichard
forges its parts by drop forging, using a forge hammer: an operation which involves forming a heated slug under pressure between two dies.
This technique makes the structure of the metal homogeneous and gives the part strength and elasticity.
The parts are then finished and tested prior to being sold.
Forging guarantees the elasticity of the product, its resistance to corrosion and strength, while optimising the size of the parts.