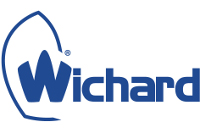 Forged stainless steel self locking D shackle.
Self-locking pin 'patented'.
At the thumb screw end, the elasticity of the shackle's body locks the pin's position into one or other of its small indentations. There is no need to worry about it accidentally coming loose due to vibrations.
Hot dropped forged from a single piece of stainless steel, adding strength and consistency of manufacture for total security and reliability. The technical characteristics of every Shackle is closely controlled and tested before, during and after the manufacturing process.
Manufactured from AISI 316 stainless offering excellent corrosion resistance, especially in marine environments.
CE marked in accordance with the Machines Directive 2006/42, these Wichard products can be used as lifting accessories. Each product displays the following information:
Working Load Limit (WLL) = 5:1 safety factor of the break load,
CE marking,
Product origin,
Manufacturer's logo.
Material and conformity certificates available on request.
*WD-1207 is not a self-locking shackle
Working Load (WL)
= Static load at which the product will still function without excessive friction or wear or permanent deformation of components.
Breaking Load (BL)
= Static load at which a major failure of one or more structural components or complete destruction of the product.
Working Load Limit (WLL)
= 5:1 safety factor of the breaking load, used for industrial applications.
Wichard
forges its parts by drop forging, using a forge hammer: an operation which involves forming a heated slug under pressure between two dies.
This technique makes the structure of the metal homogeneous and gives the part strength and elasticity.
The parts are then finished and tested prior to being sold.
Forging guarantees the elasticity of the product, its resistance to corrosion and strength, while optimising the size of the parts.