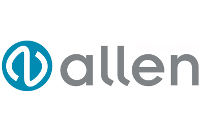 20mm XHL Extreme high load block.
Allen Brothers set a new standard for extreme performance with the AL-2030-XHL and the sailing world loved it. So they have extended the range and the new AL-2020-XHL features the same, best in class maximum working load and smooth action, but in a smaller, lighter package suitable for extreme applications on a smaller race boats.
The XHL is a new 20mm block with CNC machined, anodised aluminium cheeks, with a precision turned stainless steel sheave in a variety of dazzling colours
Twin rows of stainless steel ball bearings running on a stainless steel axle with the addition of a protective plain bearing washer.
A key feature within the XHL bearing system is the precision plain bearing washer.
When the XHL is exposed to extreme static loads (which would normally cause damage to the internal bearing system) it changes to a plain bearing block. This stops the ball bearings from getting damaged and thus no longer performing as designed. As soon as the static load is reduced the XHL returns to a high performing dynamic block.
The aluminium body features "ears" at the top of the block. These are to be used when attaching the block and stop the block from capsizing when under load.
The stainless steel sheave allows the block to be paired with both rope and wire.
Nicely radiused to allow for a 5mm rope to be tied in the centre of the block.
Allows for an even pull and increased purchase system.