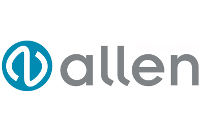 20mm XHL Double Extreme High Load Block with Becket
The growing loads on the ILCA vang have seen sailors pushing their existing hardware beyond its normal limits, which has led to top level sailors wanting a block that can withstand the punishment without compromising on dynamic performance.
These new blocks have been over engineered, to ensure a long lasting high performance on any boat which requires a block to take working loads up to 600Kg.
XHL blocks have been designed to deal with extremely high static loads without compromising on low load dynamic performance.
Ideal for use in vang cascades or halyard turning points where static loads can be extremely high but low load fast rolling speeds are required.
Twin rows of stainless steel ball bearings running on a stainless steel axle with the addition of a protective plain bearing washer.
A key feature within the XHL bearing system is the precision plain bearing washer.
When the XHL is exposed to extreme static loads (which would normally cause damage to the internal bearing system) it changes to a plain bearing block. This stops the ball bearings from getting damaged and thus no longer performing as designed. As soon as the static load is reduced the XHL returns to a high performing dynamic block.
The aluminium body features "ears" at the top of the block. These are to be used when attaching the block and stop the block from capsizing when under load.
The stainless steel sheave allows the block to be paired with both rope and wire.
Nicely radiused to allow for a 5mm rope to be tied in the centre of the block.
Allows for an even pull and increased purchase system.