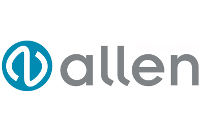 20mm Single Tii Tie-On Eco Block with Fixed Eye
This modern range of plain bearing blocks is manufactured using 100% recycled plastics and 20% less material than their predecessor. Utilising other high load components from the Allen Dynamic range makes them high strength and efficient to produce, helping to reduce the long-term impact of plastics and un-recyclable materials on the environment. The grey sheave distinguishes them from the black sheave Dynamic range.
Plain bearing blocks offer great static loading capabilities at a low weight and cost, making them perfect for take-up systems or applications that don't require high dynamic performance.
This Tii-On version features a rope friendly, smooth stainless steel ring in the top of the block which holds it together providing maximum strength and durability under load whilst completely eliminating block capsizing. The Tii range is 20-30% lighter than the equivalent standard block.