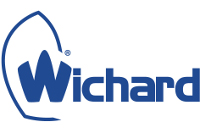 Double action harness line hook.
Wichard double action safety hooks feature the famous torsion spring developed by our engineers.
They can be fitted using just one hand, and release when you press on the rear lever.
There is a greatly reduced risk of them opening accidentally.
The webbing or rope terminates in the moulded rubber eyelet.
This product, which is both practical and offers good performance, was designed under the stringent requirements of European standard EN362 (for connectors).
Each hook is engraved with the manufacturer's batch serial number.