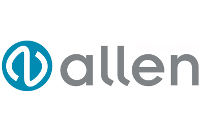 RS Tera Cunningham Race Pack
The Allen 6:1 RS Tera Cunningham race pack is fully spliced for ease of installation, reliability and maximum performance.
During first installation the Dyneema with dog bone needs to be tied around the gooseneck (see image).
The dog bone then allows quick and easy hooking and un-hooking of the Cunningham control system.
Featuring Marlow rope and Allen dynamic blocks for maximum friction reduction.
The pack also includes a soft shackle for the mast base, 2 x 20mm blocks for the mast base and plastic rope handle.