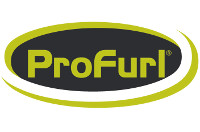 Profurl below deck cruising headsail furler for boat from 7 to 26 metres.
10 year world wide warranty.
For Cruising models from C290 to C430,
Round silver profile,
Short link plates as standard,
Adjustable tack point above the deck,
Aesthetic solution enabling easier operations with anchor,
Optimized luff and thus better boat performances,
Extrusion length is 2 meters.
Please specify stay pin diameter when ordering - turnbuckle cylinder included
Spares Guide C290SP, C320SP, C350SP, C420SP, C430SP
What kind of fitting for my furling system?
Profurl
furling systems can be adapted to your boat's configuration, not vice versa. Profurl offers a wide range of fittings, a description of each fitting is listed below:-
Standard Fitting with Short Link Plates
·
Raise the drum mechanism in order to clear the deck in case of obstacles (bow roller etc).
·
Fitting with adjustment plates is also possible
·
Standard locking device and threaded pin for a stay eye fitting
Fitting Close to the Deck with Stainless Steel Lockers
·
To increase the luff length
·
Stainless steel locking device and a smooth pin
Fitting with Long Link Plates
·
The drum can be lifted to avoid interference with the anchor and to reduce the sail chafe on the lifelines
·
The forestay length is still adjustable
·
Standard locking device
Fitting with a Turnbuckle Cylinder
·
The rigging screw is in the turnbuckle cylinder
·
The furling line can be fitted lower to the deck
·
It is also possible to use a combination of a turnbuckle cylinder and long link plates
Below the Deck Fitting
·
An aesthetic solution chosen by some boat builders (Bénéteau, X-yacht).
·
Adjustable tack fitting
Locking Devices
·
Standard ones for Cruising and Racing models with short link plates (as shown in the picture)
·
The locking devices are available for standard, medium and long link plates attachment configurations.
·
Stainless steel locking devices with insulated bushes (recommended for boats with high/intensive use).
Also mandatory in case of close to deck fitting
*the locking device for C420, C520, C530 and R480 models is a drum mechanism, made from two counter plastic halves, and including retaining screws, to withstand lateral loads.
---