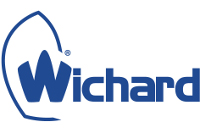 Forged stainless steel single folding pad eye.
The new range of folding pad eyes is available in 3 sizes. The forging manufacturing process and material chosen give an outstanding mechanical resistance. They are 100% safe, highly resistant to corrosion and their design is suitable for all types of boats. The silicon pad delivered as standard protects the deck and reduces noise and vibrations.
Fastening points for tethers and lifelines,
Fastening for blocks, bimini tops, shrouds, various fastening applications.
ISO 15085 Compliant
(see below)
Stainless Steel AISI 316L
Compliance with ISO 15085
The Wichard folding pad eyes are compliant with ISO 15085 Small craft - Man - overboard prevention and recovery.
·
In order to allow a correct closing of the harness hook, any hooking point (i.e pad eye) shall be inscribed within a circle of 15 mm diameter.
·
Each hooking point shall withstand, the following force : 360 Kg for a design category C boat - 600 Kg for a design category B & A boat.
For Jack-line attachment points
·
Each attachment point for jack-lines shall withstand, a 2000 Kg force applied in the direction of a line connecting them, and up to an angle of 30° from this direction.